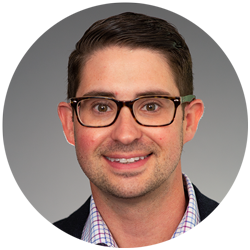 Kevin Dick
Senior Vice President
Kevin focuses on representing landlords/investors and tenants who own and/or occupy office, flex or retail properties. While he thoroughly knows the Central Indiana market, he also has experience in completing real estate transactions across the country, having worked with national, regional and local clients.

Kevin joined RESOURCE in 2006 with his father Paul Dick and his mother Teri Dick, together making up the Paul Dick Team. Kevin always works as part of a team, and he uses a detailed process, technology and in-depth market knowledge to successfully complete projects, whether that is finding savings for a real estate user or driving activity and adding value to an investor's assets. He received his Bachelor of Arts in Mass Communications and Public Relations from Anderson University.

His passion is for his community and for his church; he likes the opportunity to renovate and revitalize the city by providing economic stability through jobs as well as the real estate growth. He strives to be a good neighbor, helping others and being fair, honest and upright. He has lived in Indianapolis his whole life and wants to continue to contribute to this city's growth for many years to come.
317-213-6692

317-663-6544