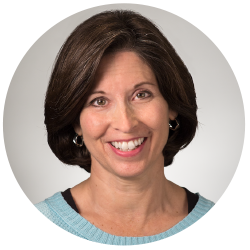 Teri Dick
Transaction Manager
Teri works with the Paul Dick Team, taking care of transaction details and handling the paperwork generated by the team's real estate deals. Teri enjoys the opportunity to work with her family, although she is not sure how a background in English and French landed her in the world of real estate.

Teri has lived in Indianapolis most of her life and insists she wouldn't move anywhere else. Teri joined RESOURCE in 2006 after working in the employee benefits, finance and human resource fields. She holds a Bachelor of Science degree from Taylor University.

If she's not babysitting her grandkids, Teri likes to read (mostly nonfiction or historical fiction), walk on the Monon Trail in Carmel, or help out at Harvest Church.
317-532-6490

317-663-6553